ITAR, DDTC registered and certified seller of ITAR producs
What is ITAR?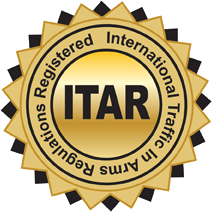 All ITAR items are controlled by the U.S. government and authorized for export only to the country of ultimate destination for use by the ultimate consignee or end-user(s) herein identified. They may not be resold, transferred, or otherwise disposed of, to any other country or to any person other than the authorized ultimate consignee or end-user(s), either in their original form or after being incorporated into other items, without first obtaining approval from the U.S. government or as otherwise authorized by U.S. law and regulations.
The International Traffic in Arms Regulations (ITAR) and the Export Administration Regulations (EAR) are two important United States export control laws that affect the manufacturing, sales and distribution of technology. To be ITAR or EAR compliant, a manufacturer or exporter whose articles or services appear on the USML or CCL lists must register with the U.S. State Department's Directorate of Defense Trade Controls (DDTC).
Export control laws provide for substantial penalties, both civil and criminal. Failure to comply with ITAR can result in civil fines as high as $500,000 per violation, while criminal penalties include fines of up to $1,000,000 and 10 years imprisonment per violation. Under EAR, maximum civil fines can reach $250,000 per violation. Criminal penalties can be as high as $1,000,000 and 20 years imprisonment per violation.
NOTE
We are DDTC registered and certified for the sale of ITAR products in the Netherlands. This means that all items with this logo only may be sold by certified companies within the Netherlands. Orders placed by customers from countries other than the Netherlands will be cancelled. When an order is being cancelled we pay back the amount of the order reduced with any payment charges - if they have occurred.