Tippmann Tech Centre
Vanaf 1 december 2015 zijn wij de 1e én officieel erkende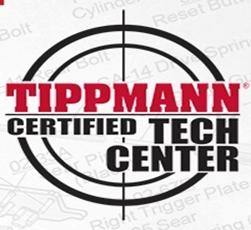 Tippmann Qualified Tech Centre van Nederland. Dit betekent dat wij Tippmann gecertificeerde monteurs/technicians in huis hebben voor reparaties aan de Tippmann M4.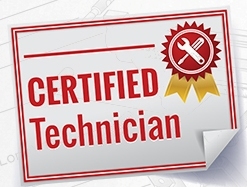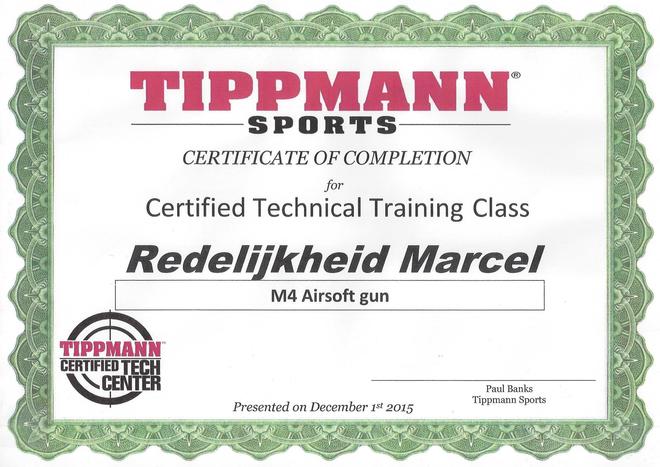 Beperkte Service Garantie
Tippmann Service Garantie garandeerd aan de oorspronkelijke koper dat, indien er eventuele reparaties of vervangingen nodig zijn om gebreken door materiaal- en/of productiefouten aan Tippmann M4 Airsoft Apparaten - wat tevens benoemd wordt onder fabrieksgarantie -, zonder kosten voor u zal repareren voor een periode van één (1) jaar vanaf de datum van de oorspronkelijke verkoop bij de detailhandel. Mits daadwerkelijk én aangetoond met de originele bon van enige erkende Handelaar binnen Nederland.
Voor Tippmann accessoires geldt een periode van negentig (90) dagen vanaf de datum van de oorspronkelijke verkoop bij de detailhandel. Met dien verstande dat u zorg heeft gedragen voor een gedegen onderhoud aan het Airsoft apparaat als ook accessoires.
Indien er sprake is van fabrieksgarantie dient men zich als eerste te vervoegen bij de betreffende verkoper c.q. erkende Handelaar van de betreffende Tippmann M4 Airsoft Apparaat.
Tech Centre
Daar wij geen verkoper van Airsoft Apparaten zijn maar wel een erkende Tippmann Tech Centre zijn bieden wij de Tippmann Service. Dit betekent dat wij alle service verlenen en zo ook kennis hebben betreft deze Airsoft apparaten.
Indien er onder garantie enige reparaties worden verricht zullen in ieder geval de verzendkosten betreft de retourzending van de onderdelen - aan de leverancier - als ook de onderstaande servicekosten in rekening worden gebracht.
Uitgezonderd
van garantie

:
Apparaten waarvan het mankement is veroorzaakt door eigen toedoen, hetzij door (a) onjuist onderhoud; (b) wijzigingen, modificatie en/of customizing; (c) niet-erkende reparaties; (d) ongeval; (e) misbruik of onjuist gebruik; (f) verwaarlozing of nalatigheid; (g) en/of normaal gebruik en slijtage;
Apparaten waarvan de periode van één jaar is verstreken vanaf aanschaf bij een erkende Handelaar binnen Nederland;
Apparaten die ter reparatie worden aangeboden ná de Tippmann Service Garantie periode of die niet onder de garantie vallen, worden de normale service-/reparatiekosten en onderdelen in rekening gebracht.
Service kosten:
€ 45,00
Dit is uiteraard exclusief de benodigde onderdelen
Wij rekenen géén uurtarief maar hanteren voor het maakloon vaste prijzen. Of wij er nu één uur aan bezig zijn of een hele dag!
Behalve voor de Tippmann M4 hebben wij de kennis en ervaring betreft verschillende AEG's en HPA systemen, zoals Polarstar, Valken V12 en Wolverine.

Tippmann Limited Warranty and Repair Information
Tippmann warrants to the original purchaser that it will make any repairs or replacements necessary to correct defects in material or workmanship, at no charge to you, for the M4 for a period of one (1) year from the date of original retail sale. Further, Tippmann warrants to the original purchaser from the original purchase shop that it will make any repairs or replacements necessary to correct defects in material or workmanship, at no charge to you, for Tippmann Accessories for a period of ninety (90) days from the date of original retail sale. All Tippmann asks is that you properly maintain and care for the M4 and Accessories (collectively, the "Product") and that you have warranty repairs performed by Tippmann or a Tippmann Certified Tech Center.
This Limited Warranty is non-transferable, and it does not cover damage or defects to the Product caused by (a) improper maintenance; (b) alteration or modification; (c) unauthorized repair; (d) accident; (e) abuse or misuse; (f) neglect or negligence; and/or (g) normal wear and tear.
Tippmann does not authorize any person or representative to assume or grant any other warranty obligation with the sale of this Product.
THIS IS THE ONLY EXPRESS WARRANTY GIVEN WITH THE PURCHASE OF THIS PRODUCT; ANY AND ALL OTHER EXPRESS WARRANTIES ARE DISCLAIMED. THE IMPLIED WARRANTIES OF MERCHANTABILITY AND FITNESS FOR A PARTICULAR PURPOSE ARE LIMITED TO THE APPLICABLE LIMITED WARRANTY PERIOD SET FORTH HEREIN, AND NO WARRANTIES, WHETHER EXPRESS OR IMPLIED, SHALL APPLY AFTER EXPIRATION OF SUCH PERIOD.
The sole and exclusive liability of Tippmann and/or its authorized dealers under this Limited Warranty shall be for the repair or replacement of any part or assembly determined to be defective in material or workmanship.

TIPPMANN SHALL NOT BE LIABLE FOR, AND YOU EXPRESSLY DISCLAIM, ANY DIRECT, INDIRECT, CONSEQUENTIAL OR INCIDENTAL DAMAGES (COLLECTIVELY, "DAMAGES") ARISING OUT OF THE SALE OR USE OF, OR YOUR INABILITY TO USE, THE PRODUCT. NO PAYMENT OR OTHER COMPENSATION WILL BE MADE FOR DAMAGES, INCLUDING INJURY TO PERSON OR PROPERTY OR LOSS OF REVENUE WHICH MIGHT BE PAID, INCURRED OR SUSTAINED BY REASON OF THE FAILURE OF ANY PART OR ASSEMBLY OF THE PRODUCT.
Some states and nations do not allow the exclusion or limitation of incidental or consequential damages, so the above limitation or exclusion may not apply to you. This warranty gives you specific legal rights, and you may also have other rights that may vary from state to state or nation to nation.