Tippmann Barrel Information
Information about Tippmann Outer Barrel for Tippmann M4 Airsoft Gun
Are you looking to change the length of your barrel on your Tippmann M4 Airsoft Gun? Tippmann offers a full line up of outer barrels for you to choose from. The outer barrel is cosmetic and mounts directly to your upper receiver. The standard length included with the Tippmann Airsoft M4 is 14.3 inches. Tippmann offers 3

additional lengths for you to build the rifle length you desire. These outer barrels are designed to house an airsoft AEG inner barrel - you'll need to install one of these to realize the range and accuracy benefits.
Available Lenghts:
10.3 Inches = CQB
Pick the 10.3 inch barrel if you're goal is to build a maneuverable close quarters rifle.
Length Inner Barrel 260mm
14.3 inches = STANDARD Tippmann Airsoft M4
Length Inner Barrel 363mm
16.0 Inches = MRA (More Range & Accuracy)
Use the 16 inch barrel if you are looking for a rifle with a little more range and accuracy than stock, while still keeping the ability to maneuver in tighter spaces.
Length Inner Barrel 400mm
20.0 Inches = XRA & SNIPER & DMR (Designated Marksman Rifle)
If you are going for eXtreme Range and Accuracy, use the 20 inch barrel for outdoor play. (A designated marksman rifle (DMR) fills the gap between a regular base replica and a sniper.)
Length Inner Barrel 500mm
Shopping Cart
Geen artikelen in winkelwagen.
Aanbieding - Offer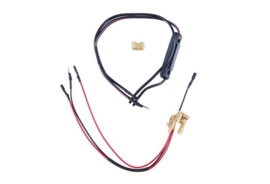 Jing Gong Universal Cable Set (Large Tamiya Plug)
€ 15,00
€ 10,00