Betaalmethoden - Payment methods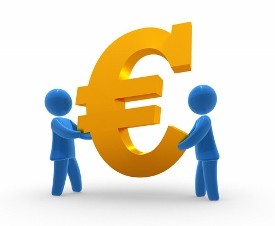 Alle Betaalmethoden / Payment methods:
Paypal € 0,35 + 3,4% cost
IDEAL (Nederland) 0% cost
Bancontact / Mister Cash (België) 0% cost
Overmaking via de bank (vooraf overmaken) 0% cost
Contant bij Afhalen (Betalen bij afhalen / Payment in advance) 0% cost
Ideal betaald en Afhalen 0% cost

Betalingen vanuit het buitenland / Payments from abroad:
PayPal € 0,35 + 3,4% cost
Bancontact / Mister Cash 0% cost (Only Belgium)
Bank Transfer 0% cost (Vooraf overmaken / Payment in advance)
Betalingen kunt u verrichten door u zelf gekozen betaalmethoden zoals hierboven vermeld, tijdens de bestelprocedure van onze webwinkel. Payment methods from abroad during the ordering process of our online store as mentioned above.
Voor alle bestellingen geldt:
Vermeld het ordernummer bij de betaling; Overmaking van het totaalbedrag; bedraagt het orderbedrag inclusief transportkosten. Bestellingen worden verzonden zodra de betaling is ontvangen. Dit kan enkele dagen in beslag nemen.
For all orders, please note:
Please indicate the order number in the payment; Payment of the total amount is the order amount including shipping costs. Orders are shipped once payment has been received. This may take several days.

! Only available for clients from The Netherlands !
Met iDEAL kunt u vertrouwd, veilig en gemakkelijk uw online aankopen afrekenen. iDEAL is het systeem dat u direct koppelt aan uw internetbankierprogramma bij een online aankoop. Om gebruik te maken van iDEAL hoeft u zich niet te registreren, bestanden te downloaden of een account aan te maken. Maakt u gebruik van internetbankieren bij ABN AMRO, ASN Bank, Friesland Bank, ING, Rabobank, RegioBank, SNS Bank, Triodos Bank of Van Lanschot Bankiers, dan kunt u direct met iDEAL betalen. U rekent dan snel en gemakkelijk af in de vertrouwde internetbetaalomgeving van uw eigen bank. Betalen zoals u eigenlijk al gewend bent.Voor deze dienst worden geen kosten in rekening gebracht.
Kosten 0%.


! Available for clients all over the world !
Wij bieden de mogelijkheid om uw bestelling via PayPal te betalen. Deze betaalmethode wordt veel gebruikt om aankopen online te betalen. Hiermee betalen op internet is net zo veilig, simpel en gemakkelijk als betalen in de winkel. PayPal biedt haar kopers tevens bescherming en is in dat opzicht als betaalmethode te vergelijken met creditcards. Indien u van deze dienst gebruik maakt, berekenen wij u wel de administratiekosten door die ons hiervoor in rekening worden gebracht door onze acquirer. Voor deze dienst wordt € 0,35 + 3,4% kosten in rekening gebracht.

We offer the possibility to pay your order through PayPal. This payment method is widely used to make purchases online.This charged on internet is just as safe, simple and easy if pay at the store. PayPal also offers its buyers protection and is in that respect as payment method to compare with credit cards. If you make use of this service, we will charge you the administration costs by those us [click and drag to move] in such cases by our acquirer.
This service charged fee is € 0,35 + 3,4%.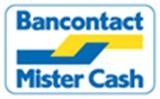 ! Only available for clients from BELGIUM !
Met Bancontact / Mister Cash kunnen Belgische rekeninghouders die bankieren bij de banken: KBC, Dexia, Fortis, FINTRO, AXA bank, CBC, VDK Spaarbank en ING online aankopen doen middels hun bankpas. U kunt vertrouwd, veilig en gemakkelijk uw online aankoop bij ons afrekenen in uw vertrouwde internet betaalomgeving, op basis van specifieke beveiligingsmethodes van uw eigen bank.
De veiligheid en betrouwbaarheid zijn absoluut gegarandeerd. Als internet bankier kunt u direct gebruik maken van Bancontact/Mister Cash, zonder dat u zich daarvoor hoeft aan te melden of speciale software moet installeren. Voor deze dienst worden geen kosten in rekening gebracht.
Kosten 0%.

Overschrijving via Bank
Betalingen dienen vooraf te geschieden, binnen 5 werkdagen na besteldatum onder vermelding van het bestelnummer. Als betaling niet binnen de gestelde termijn is voldaan, gaan wij er vanuit dat op het bestelde geen prijs meer wordt gesteld en wordt de bestelling geannuleerd.
U dient het totale bedrag van de bestelling (inclusief verzendkosten) over te schrijven naar ons bankrekeningnummer. Voor deze dienst worden geen kosten in rekening gebracht.
Kosten 0%.

Payments can be made in advance with Bank Transfer. You pay within 5 working days after placing the order date. Please indicating the order number on the payment. If payment is not made within the time limit the order will be cancelled.You need to pay the total amount of the order (including shipping and taxes) to our bank account. This service is free of charge.
Costs 0%.
Betalingsgegevens / Payment details: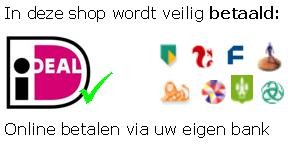 Dutch Stockhouse
IBAN: NL20 INGB 0007 6656 67
BIC: INGBNL2A

CONTANT of PIN bij AFHALEN
Ook is het mogelijk uw bestelling CONTANT of bij voorkeur via de PIN te Betalen bij Afhalen in onze winkel in Den Haag. Indien u voor uw bestelling heeft gekozen voor "Betalen bij Afhalen" verzoeken u kennis te nemen van onze openingstijden. Deze order wordt door ons één week na plaatsing van de order in reservering gehouden en verzoeken u de artikelen binnen deze termijn in onze winkel af te rekenen. Voor deze dienst worden uiteraard geen kosten in rekening gebracht.
Kosten 0%.